DPreview obituary. 1998-2023 RIP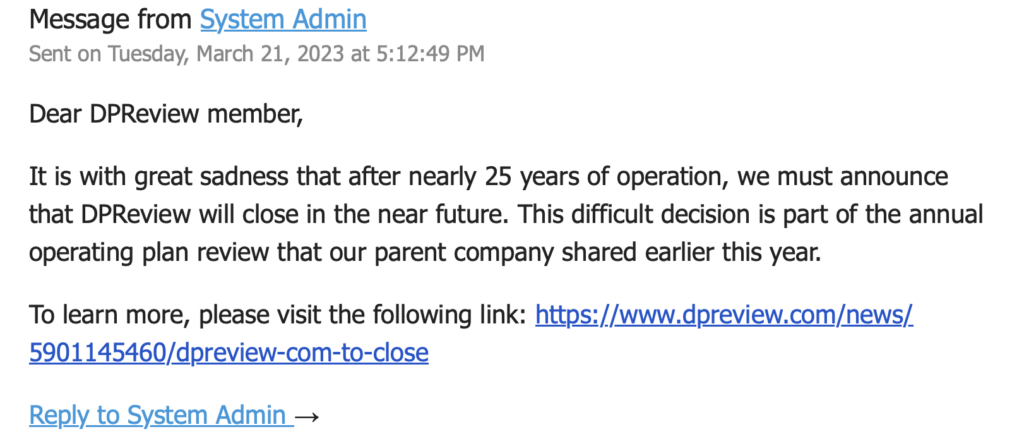 In Loving Memory: DPReview (1998-2023)
As we bid a tearful farewell to DPReview, the preeminent resource for digital photography enthusiasts worldwide, we reflect on its incredible 25-year journey. From its inception in 1998 by Phil Askey to its acquisition by Amazon in 2007, DPReview has remained a steadfast beacon of knowledge, guidance, and inspiration for photographers of all skill levels.
Through its commitment to in-depth reviews, DPReview set a high standard for journalistic integrity in the realm of photography. Its meticulous evaluations of cameras, lenses, and accessories provided invaluable insights for consumers, allowing them to make informed decisions on their photographic investments.
As we reminisce on the extensive library of sample images, we are reminded of how DPReview empowered photographers to push the boundaries of their craft. By showcasing the capabilities of various cameras and lenses, DPReview fueled the creative fires of countless individuals, inspiring them to explore new techniques and perspectives.
The DPReview forums, a bustling hub of engagement, fostered a sense of camaraderie and mentorship among photographers. This tight-knit community shared their knowledge, experiences, and, most importantly, their passion for the art of photography. These connections transcended geographic boundaries, creating an international family united by a shared love for capturing the world through a lens.
But DPReview's influence extended far beyond reviews and forums; it became a trusted source of news and updates in the ever-evolving world of photography. Through its diligent reporting, DPReview kept its loyal readers informed about the latest innovations, product releases, and industry trends. It was a constant companion in the rapidly changing landscape of digital imaging.
As we say goodbye to DPReview, we express our deep gratitude for the indelible mark it has left on the photography world. Its unwavering dedication to quality, knowledge, and community will be sorely missed. Though it may be gone, its impact will live on in the hearts and minds of the countless photographers it has touched throughout the years.
Rest in peace, DPReview. You will always be remembered as a guiding light in the world of digital photography.
On a Personal Note: My Journey with DPReview
As I sit here, processing the imminent closure of DPReview, I can't help but feel a deep sense of sadness and nostalgia. It's been an integral part of my photographic journey, and I suspect many others share the same sentiment.
I vividly recall the early days of my fascination with photography, when I stumbled upon DPReview for the first time. I was searching for a reliable source of information to guide me in purchasing my first digital camera . The exhaustive reviews and user experiences on DPReview led me to my first love, the HP Photosmart 850. It was a decision I've never regretted, and it marked the beginning of a lifelong passion.
DPReview didn't just help me choose the camera; it also played a pivotal role in shaping my career and hobbies. As a young photographer eager to learn, I soaked up the wealth of knowledge that DPReview offered, from its detailed articles on photographic techniques to the invaluable tips and tricks shared by the vibrant community on the forums. The members of this community became my mentors, my friends, and my inspiration.
The years that followed saw me branching out into various genres of photography, from portraiture to landscape, and even dabbling in macro. Each time I ventured into a new area, DPReview was there, providing guidance on the best gear, techniques, and creative approaches.
Now, as I grapple with the closure of DPReview, I mourn the loss of this incredible resource and the community that thrived within its virtual walls. The friendships, the shared passion, and the collective pursuit of knowledge and creative growth will be sorely missed. In the face of this loss, I am reminded to cherish the memories and the lasting impact DPReview has had on my life.
In closing, I want to express my deepest gratitude to DPReview for its unwavering commitment to the world of digital photography. The legacy it leaves behind will not be forgotten, and the lessons learned will continue to shape our lives as photographers. We, the DPReview community, will carry the torch forward, keeping the spirit of exploration and camaraderie alive in our hearts. Goodbye, DPReview, and thank you for the unforgettable journey.
{
"prompt": "digital camera grave, RIP, deep leaps, high-resolution, cinematic lighting, 8k, octane render, highly detailed",
"seed": 5716335,
"used_random_seed": true,
"negative_prompt": "",
"num_outputs": 1,
"num_inference_steps": 25,
"guidance_scale": 7.5,
"width": 512,
"height": 512,
"vram_usage_level": "balanced",
"use_stable_diffusion_model": "Dreamshaper_3.32_baked_vae_clip_fix",
"use_vae_model": "vae-ft-mse-840000-ema-pruned",
"stream_progress_updates": true,
"stream_image_progress": false,
"show_only_filtered_image": true,
"block_nsfw": false,
"output_format": "jpeg",
"output_quality": 75,
"metadata_output_format": "none",
"original_prompt": "digital camera grave, RIP, deep leaps, high-resolution, cinematic lighting, 8k, octane render, highly detailed",
"active_tags": [],
"inactive_tags": [],
"sampler_name": "euler_a",
"use_upscale": "RealESRGAN_x4plus",
"upscale_amount": "4"
}